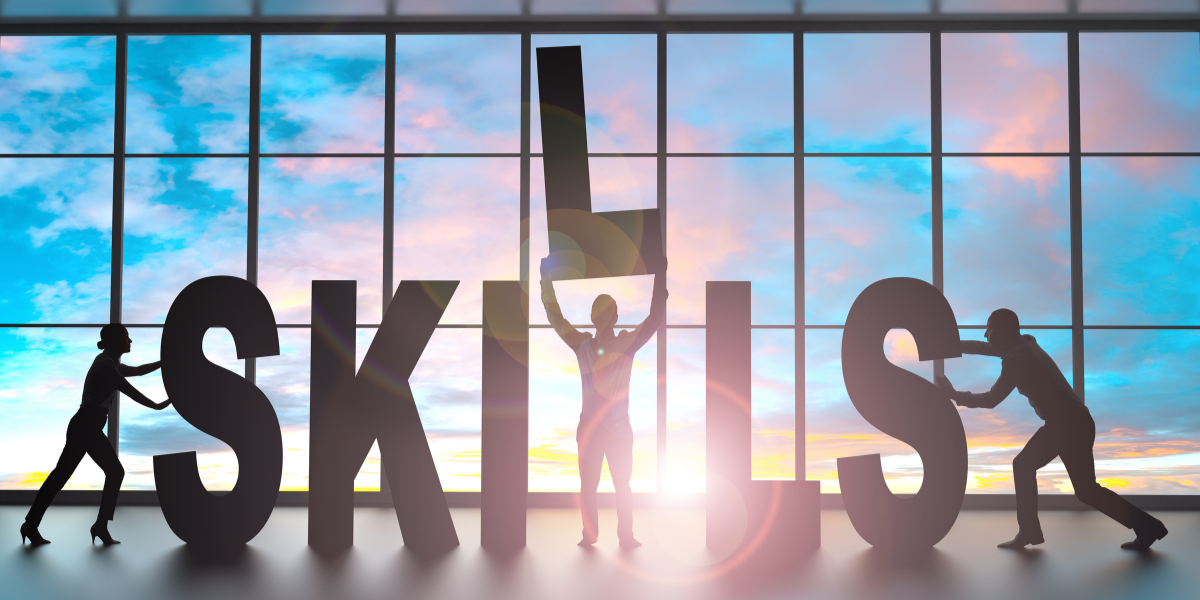 LXP – Power Skill Building in The New World of Work

Now is the age of rapid upskilling, reskilling and internal mobility. To create a more equitable workplace, L&D needs to build a continuous learning culture within the organisation, make learning an integral part of everyday work, and support all the ways of learning at work. And innovations gave L&D the digital means to make it happen – the Learning Experience Platform (LXP). What's in it for your business and how to apply it? Read the article to find out.
Upskilling and reskilling is the top priority for L&D professionals globally.
The advent of technology has been fuelling an increasing speed of knowledge change for years – an upwards trend that the pandemic has only served to further accelerate. Eighty percent of CEOs now believe the need for new skills is their biggest business challenge.
Some of the largest enterprises globally have invested millions, even billions, in 'future-proofing' their employees, arming them with the skills needed for the new world of work. For example, JPMorgan Chase is implementing a $600M plan to upskill their workforce. Amazon is investing over $700M to provide upskilling training to their employees. And, PwC is spending $3B to upskill all of its 275,000 employees over the next three to four years with the mantra "New World, New Skills."
Today, it's not just large organisations that are prioritising skill building. When L&D professionals globally were asked what their primary focus was for their L&D programmes in 2021, their answers were upskilling and reskilling is the #1 priority (59%) – that's a 15% increase since June 2020. Interestingly, L&D professionals at small- and medium-size businesses were even prioritising it more (64% and 62%) than large enterprises (56%).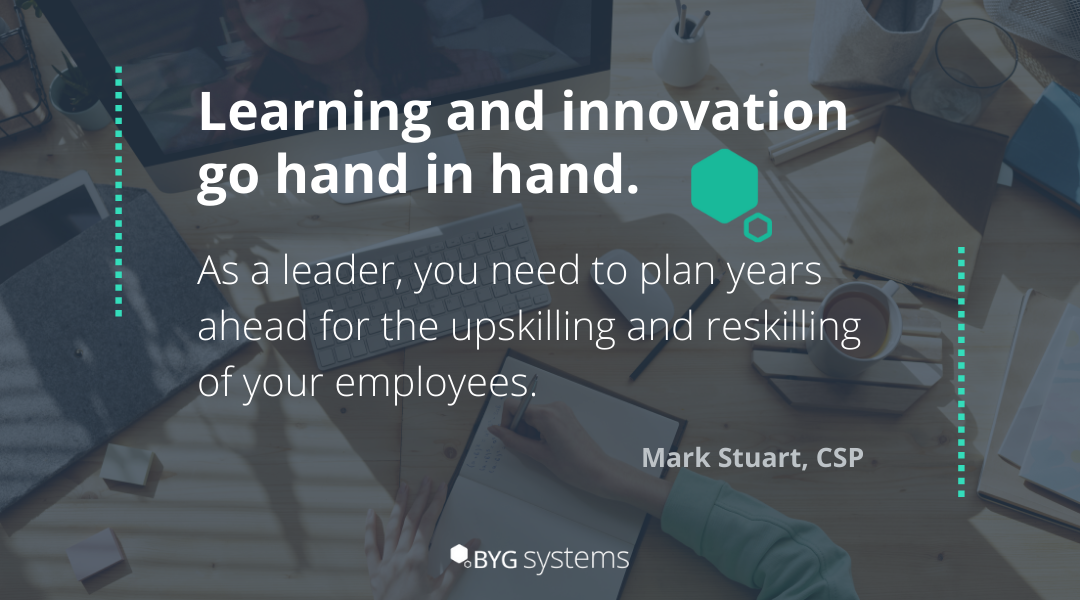 L&D's critical role in creating a more diverse, inclusive, and equitable workplace
To tackle the massive skill building challenges, learning is at the core of the most critical, strategic business imperatives. L&D needs to support the entire workforce in all countries – from production through to the back office – to make learning an integral part of work, no matter where that work takes place. For employees, research shows that opportunities to learn and grow have become the second most important factor in workplace happiness (after the nature of the work itself).
The questions are: How to make learning an integral part of work? Workplace learning is much more than just participating in a series of training events (in the classroom or online) or self-study, but continuously learning in a number of ways. What are they?
Implementing 'Modern Workplace Learning' – a holistic approach to organisational learning and development
An individual learns in many different ways at work. An ongoing learning survey conducted over 14 years by Jane Hart, the Founder of the Centre for Learning & Performance Technologies revealed the 4 main ways people learn at work.
1. They learn through DISCOVERY (Informal Learning) – that is by finding things out themselves through searching or serendipitous browsing (mostly on the Web).
2. They learn through DISCOURSE (Social Learning) – that is by interacting with others, whether it be in their professional social networks (like Twitter or LinkedIn) or with their work colleagues.
3. They learn from DOING their job (Experiential Learning) – that is from their everyday work experiences.
4. They learn through DIDACTICS (Formal Learning) – that is by being taught or trained.
'Modern Workplace Learning' was coined based on the results of this survey. It offers a smarter and holistic approach to organisational learning that enables and supports all the ways of learning in order to enhance job performances and build in-demand skills in the new world of work.
The following graphic suggests a framework of how employees learn at work and how often and how much time they might spend on each of the activities.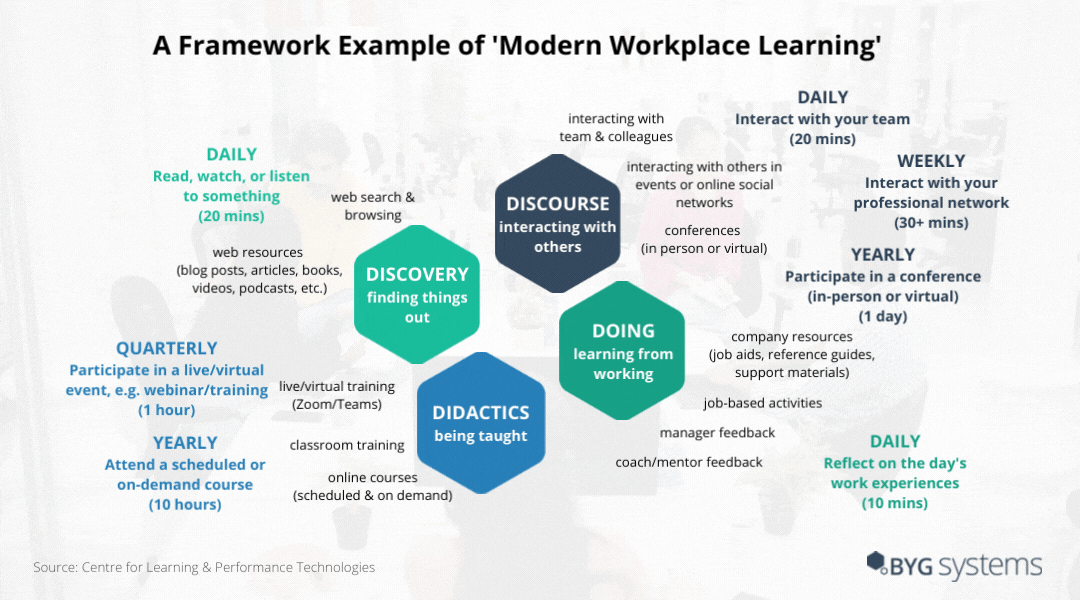 L&D's new role: enabling and supporting all the ways of learning
L&D's role will no longer be just designing, delivering and managing training, but enabling and supporting all the ways of learning at work. After all, they can no longer provide and manage everything everyone needs to learn to do their job. They must prepare people and the organisation for the future, by enabling a continuous learning culture and embedding learning in everyday work.
L&D professionals can make it happen in a variety of ways, at an organisational, team and individual level.
Organisational learning
Working with business leaders to define and communicate a vision for learning and transformation, clearly linked to organisational objectives
Evaluating current systems for learning and knowledge sharing
Working with talent acquisition and HR departments to identify skills needed for workforce planning
Leveraging skill assessments and internal/external data resources to validate skills in the current workforce and identify skills gaps in the organisation
Aligning skilling programmes to the business strategy and creating large-scale reskilling programmes to fill positions that are new or difficult to hire for
Creating career paths with course recommendations and skills needed
Setting up feedback loops to understand what skills to build or courses to recommend to the organisation
Team learning
Involving people managers in driving employees' learning and skill development
Building support for learning and development into management objectives
Supporting them to prioritise time and resources for formal and informal learning
Encouraging line managers to be role models – demonstrating how learning is part of everyone's role, sharing their learning, supporting knowledge sharing within their team, and encouraging reflection as part of project evaluation
Individual learning
Highlighting everyone's role in organisational and team learning – how does continuous learning benefits individuals, their team, and the wider organisation?
Consistently communicating learning opportunities across the organisation
Providing different types of learning for different types of learners/workers and allowing them to build their own learning and career pathway within an organisational framework
Creating a 'Learn Everywhere' ecosystem within the organisation and putting the individual experience at the heart of learning to make learning accessible, searchable, relevant and enjoyable for each and every employee.
Innovations Gave L&D The Digital Means to Embed Learning in Everyday Work.
A new platform came about to pull together new ideas such as lifelong learning, autonomous learning, adaptive learning, hybrid learning and learning in the workflow. One with a focus on the individuals, bringing learning to them anywhere, at anytime and in various ways, and providing a holistic learning experience. The Learning Experience Platform (LXP).
LXP – Putting learner experience at the heart of learning
An LXP is a learning and collaborative platform that puts learning in the hands of learners rather than an administrator.
The goal is to engage learners/employees with the platform and content using a personalised user experience. An LXP allows employees the flexibility to personalise what they learn, how they learn and when/where they choose to learn. It can identify specific skill gaps by understanding roles, analysing performance and assessing career paths, and then recommend either remedial or progression learning to each employee. Employees can also explore subject areas that they are interested in and believe can improve their job performance.
Josh Bersin, one of the foremost learning industry analysts, coined the term LXP, and likened it to "Netflix for learning". To some extent, the analogy works – an LXP is all about the delivery of learning – personalising it to you in an accessible and enjoyable way. However, the LXP has grown far beyond the initial Netflix comparisons. It can give access to the whole learning ecosystem: e-learning, web-based content, webinars, virtual classrooms, and social learning. It's not necessarily a learning content repository (that's what your LMS or content providers are for), it's a one-stop shop for each learner's individual needs.
LXPs make learning relevant and enjoyable through personalisation, powerful search, a user-friendly interface, and integrations with the wider learning ecosystem. LXPs can incorporate digital and social capabilities, such as chatbots, badging, leaderboards and digital content delivery. LXPs use artificial intelligence (AI) to collect and analyse data on learners' interactions and make content recommendations based on that data.
BYG Learning Resource Platform – Our LXP of choice
Empower your people to excel, adapt and thrive in the new world of work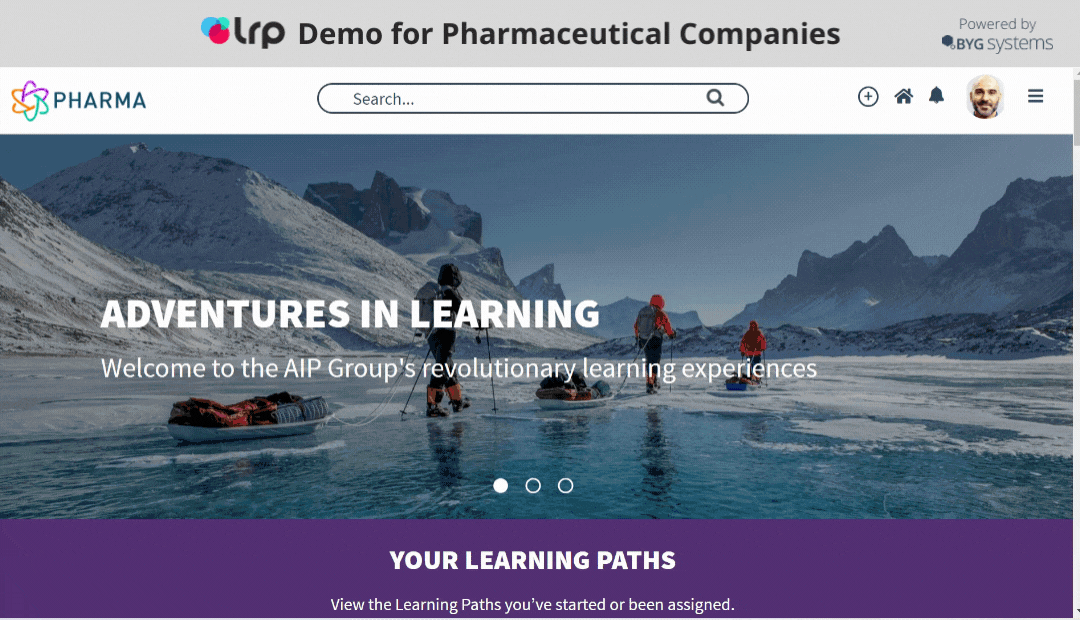 Full disclosure: Learning Resource Platform (LRP) is our own learning experience platform, so we certainly believe it belongs at the top of the list.
That doesn't mean it's the only solution on the market, it's just the only one fully customisable to your business needs and deeply integrable with your corporate learning and work ecosystem. Therefore, we believe it's the best choice of learning experience platform for the present, adaptable and scalable for the future, and capable of providing an engaging learning experience on any device, at anytime, in the flow of work.
Put simply, the LRP facilitates continuous learning across the organisation in the following ways:
1. Making employees responsible for and enthusiastic about their own learning
The LRP gives employees the power to forge their own career-driven learning paths – recommending the most relevant content and activities to complete towards achieving their next chosen career goal. It will also hike up the organisation's learning engagement levels through various gamification features, such as rewards, badges, leaderboards, games and campaigns.
2. Making learning accessible, relevant and enjoyable
The LRP's user interface looks different to each learner. What they see is specifically curated and tailored for them as the LRP picks out content that suits their job profile, expressed interests and past interactions.
Its flexibility and powerful search gives learners quick, easy access to the relevant information, in the medium and style they want, making learning accessible and relevant in near real time. Most importantly, the learning journey on the LRP is fast, smooth and enjoyable thanks to its slick, mobile-friendly UX design.
3. Encouraging different ways of learning in the flow of work
Employees can access information on the LRP in their workflow, on the go and on their phones. The LRP accommodates different forms of content (courses, documents, videos, animations, etc.) and gives access to web-based content and digital/virtual learning activities – supporting many different ways of learning at work. It is perfect for bite-sized, mobile-friendly learning modules to facilitate the learning of busy workers with little downtime between calls or meetings.
Moreover, as the LRP can be integrated seamlessly with any video and communication platforms or daily work systems – such as Teams, Slack, Zoom, Google Services, you name it – it can notify employees of relevant content through the other platforms and encourage their continuous learning in the flow of work.
4. Inspiring employees to discover new, relevant knowledge through intelligent content recommendation
Many of the LRP's features are augmented by AI, such as content curation and personalisation. Through intelligent knowledge discovery, the LRP provides highly adaptive, contextualised learning experiences based on the analysis of job performance, skill gaps and career-driven competencies required. It uses machine learning algorithms to learn the type of content that a learner responds to and factor that in, alongside the business needs, when recommending learning.
5. Bringing employees together for collaborative learning and knowledge sharing
People learn better together as research showed learners who used social features spent 30 times more hours learning than those who didn't.
The LRP facilitates the social learning experience with a range of social features. People can like, comment and share learning contents with their peers. They can use their personal experience to create and share their learning playlists. There are things people doing a job everyday will know that the others won't. Therefore, following and interacting with others on the LRP will help on-the-job learning and give employees a greater chance of picking up the skills they need to progress in their role.
Final words
The LRP is a powerful and flexible learning experience platform that offers all the features and benefits to boost individual learning and development and drive a continuous learning culture within an organisation.
It can be an independent learning platform and replace an obsolete LMS in your organisation. With the LRP, you can develop, curate, administer and measure your traditional e-learning and online training materials, whilst personalising and delivering the right contents at the right times to the right people.
This doesn't necessarily mean that the LRP should always replace your existing content providers. Rather, it can complement a solid LMS that is well built for compliance and mandatory training – by expanding the autonomous learning of the LMS to enhance continuous learning and skill building across the workforce. The LRP can connect with all the learning resources within your organisation to become the single point at which learners meet learning content and share knowledge with each other.